The RP2040 PiZero development board is a board in the ever popular Raspberry PI Zero form factor, but at its heart is the RP2040 SoC from Raspberry PI.
We get the same dual-core Arm Cortex M0+ CPU running at 133 MHz and 264KB of SRAM. The flash storage is much greater coming in at 16MB versus the 2MB of a Raspberry Pi Pico.
If that is not enough for your needs there is an onboard micro SD slot provides all you should require.
There is a mini HDMI port onboard which provides a DVI interface that can be used but you will need to use the C++ SDK..
There are two USB C ports. One is used for power and the other is used for data connectivity; the other is user-configurable via PIO USB.
An onboard battery charging circuit means that external lithium batteries can be charged and used via the two-pin header.
The GPIO appears to mimic the HAT standard that was introduced with the Raspberry Pi B+ way back in 2014.
Software development options for the board are pretty standard. If it can run on a RP2040 board then it will run on the RP2040 PiZero development board.
C/C++, MicroPython, and Arduino are officially supported. But DVI and PIO USB are only available for C/C++ projects at the moment.
Features
RP2040 microcontroller chip designed by Raspberry Pi in the United Kingdom.
Dual-core ARM Cortex M0+ processor, flexible clock running up to 133 MHz.
264KB of SRAM, and 16MB of onboard Flash memory.
The onboard DVI interface can drive most HDMI screens (DVI compatibility required).
Supports use as a USB host or slave via onboard PIO-USB port.
Onboard TF card slot for reading and writing TF cards.
Onboard Lithium battery recharge/discharge header, suitable for mobile scenarios.
USB 1.1 with device and host support.
Drag-and-drop programming using mass storage over USB.
Low-power sleep and dormant modes.
2 × SPI, 2 × I2C, 2 × UART, 4 × 12-bit ADC, 16 × controllable PWM channels.
Accurate clock and timer on-chip.
Temperature sensor.
Accelerated floating-point libraries on-chip.
8 × Programmable I/O (PIO) state machines for custom peripheral support.
Images
Lets look at a picture of the board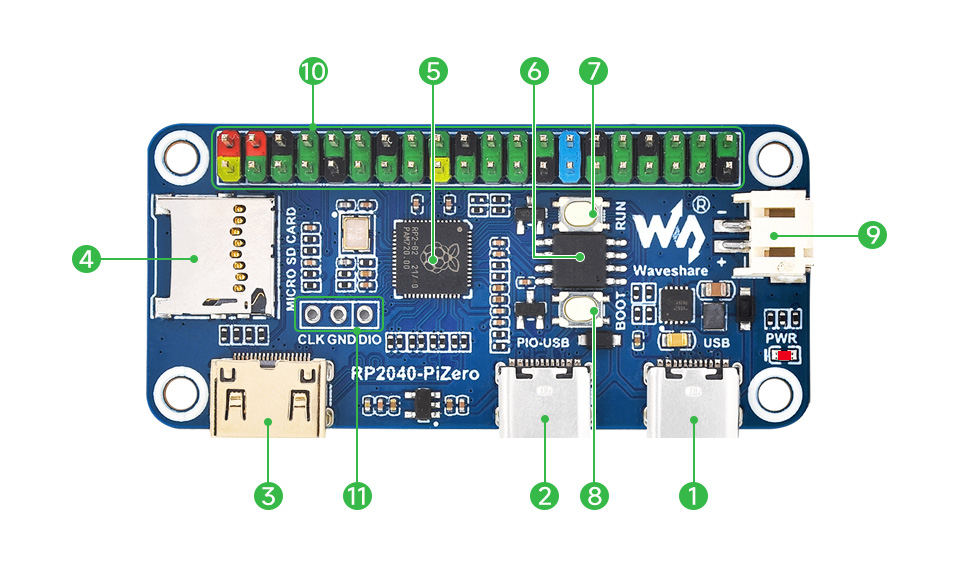 USB Type-C connector
for communication and program burning
PIO-USB port
for using as USB host or slave via PIO
DVI interace (Mini HDMI connector)
for driving DVI screen with HDMI cable
TF card slot
SPI interface communication
RP2040
dual-core processor, up to 133MHz operating frequency
W25Q128JV
16MB NOR-Flash
RUN button
reset button
BOOT button
Press it when resetting to enter download mode
Lithium Battery Header
PH2.0 header, for connecting 3.7V Lithium battery, allows recharging/discharging the battery
40PIN GPIO Header
Compatible with some Raspberry Pi HATs
Debug interface
Purchase
The board costs under £10 from aliexpress
Summary
We will be looking at compatibility with Raspberry Pi Zero board and modules – for me that would be the key reason for purchasing this board. There are a couple of useful features
A lot of useful examples on the waveshare wiki – https://www.waveshare.com/wiki/RP2040-PiZero